Hydroman™ Submersible Agitator Slurry Pump for Sand Dredging, also named Submersible Slurry Pump,is designed and engineered for complex heavy-duty pumping applications to handle high mixture densities such as sand, slurry, sludge, wastewater and gravels, etc. The difference between submersible mud pump and ordinary mud pump is that submerged mud pump work underwater, while most slurry mud pumps work on the ground.
Hydroman™ Used of Submersible Agitator Slurry Pump for Sand Dredging:
▪ When installing a small submerged dredging pump, the cable should be overhead, and the power cable should not be too long. The cable should not bear the force when the underwater pump is diving, so as not to cause the power cord to break. Do not sink the submerged dredge pump into the mud, otherwise it will cause poor heat dissipation and burn out the motor windings.
▪ Try to avoid starting at low voltage. The power supply voltage and the rated voltage should not differ by 10%. Excessive voltage will cause the motor to overheat and burn out the windings. Too low voltage will cause the decrease of the motor rotation speed, If it does not reach 70% of the rated speed, the starting centrifugal switch will be closed, causing the starting winding to heat up or even burn out the winding and capacitor due to long-term energization. Do not switch the motor on and off frequently, because backflow will occur when the submerged pump stops. If it is turned on immediately, the motor will start with a load, resulting in excessive starting current and burning out the windings.
▪ The submerged solids handling pump can not be overloaded for a long time and can not pump water with high and content. The time that the submerged dredging pump runs away from the water should not be too long, so as not to cause the motor to overheat and burn out. When the submersible slurry pump unit is working, the operator must observe whether the working voltage and current are within the values specified on the nameplate at any time. If it does not meet the requirements, the motor should be stopped, find out the reason and eliminate the fault.
▪ Check the motor frequently. If there are cracks, rubber sealing ring damage or failure in the lower cover, please replace or repair it in time to prevent water from infiltrating the submersible sludge pump.
Hydroman™ Submersible Agitator Slurry Pump for Sand Dredging Application Example: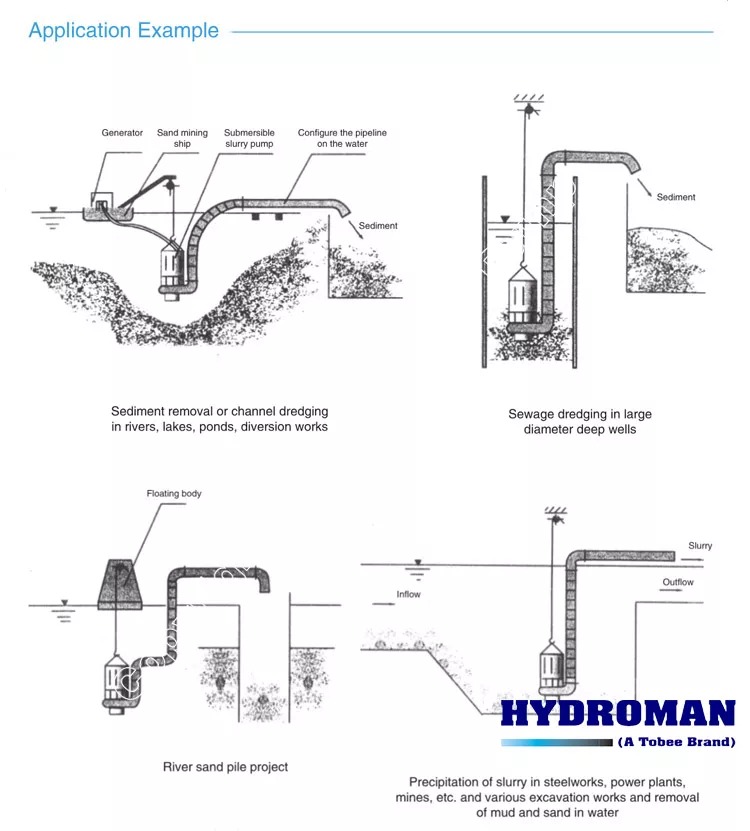 Hydroman™ Submersible Agitator Slurry Pump for Sand Dredging Showing: