Tobee® Slurry Pump Spare Parts China are interchangeable with AH series slurry pump parts, with many good characteristics of abrasion resistance, corrosion resistance etc. Now the slurry pump ceramic parts are continually provided for coal power generation, non-ferrous foundry, mining and others. The corrosion and abrasion resistance of ceramic slurry pump parts are highly exceed ones made by high chrome alloy. The abrasion resistance of ceramic parts are 5 times as wearable as high chrome. However the weight of ceramic parts is only 1/3 of chrome parts.
The stuffing box seal is composed of packing box body, packing, gland, bolt and other basic parts. The packing placed between the box body and the rotating shaft is radially extended under the axial force of the bolt force and the gland, so that the packing is tight. Adhered to the periphery of the rotating shaft, the lubricating oil added from the oil cup will form a very thin oil film between the packing and the contact surface of the rotating shaft when the shaft rotates, which not only has lubricating effect, but also prevents the medium in the kettle from escaping and Infiltration of gas outside the kettle.
The gland is also available with a pair of open gland assembly used for slurry pumps. The slurry pump gland assembly is prone to damage due to stress during packing replacement and adjustment. Previously, usually with wire binding or replacement of gland assembly of slurry pump, often cause the media to continue to leak, both a waste of material, and unsafe. The packing gland has the characteristics of simple structure, easy to use, safe and reliable, and strong emergency. When the gland assembly is damaged, it can be easily and quickly replaced without affecting the normal use of the centrifugal slurry pumps.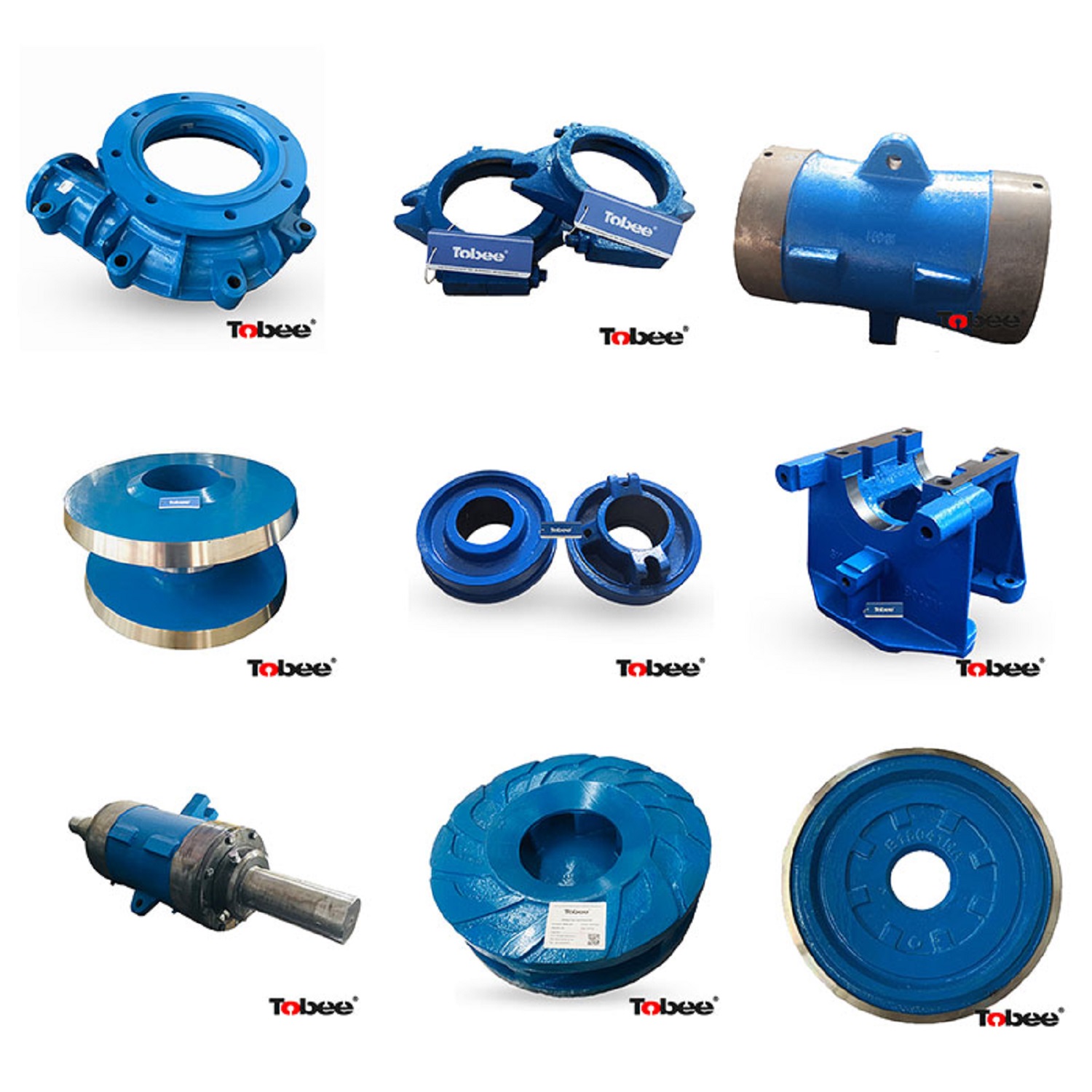 Tobee® Slurry Pump Gland Assembly Codes:
Standard Slurry Pump Gland Assembly

Part Name

Part Code

Part Code

Part Code

Part Code

Part Code

Gland Assembly

B044K24

B044C23

B044C21

B044G01

B044D21

Gland Assembly

C044K24

C044C23

C044C21

C044G01

C044D21

Gland Assembly

D044K24

D044C23

D044C21

D044G01

D044D21

Gland Assembly

E044K24

E044C23

E044C21

E044G01

E044D21

Gland Assembly

F044K24

F044C23

F044C21

F044G01

F044D21

Gland Assembly

G044C23

G044C21

G044G01

G044D21

Gland Assembly

H044K24

H044C23

H044C21

H044G01

H044D21

Hi-seal Slurry Pump Gland Assembly

Part Name

Part Code

Part Code

Part Code

Part Code

Part Code

Gland Assembly

B044HS1K24

B044HS1C23

B044HS1C21

B044HS1G01

B044HS1D21

Gland Assembly

C044HS1K24

C044HS1C23

C044HS1C21

C044HS1G01

C044HS1D21

Gland Assembly

D044HS1K24

D044HS1C23

D044HS1D21

Gland Assembly

E044HS1K24

E044HS1C23

E044HS1C21

E044HS1G01

E044HS1D21

Gland Assembly

F044HS1K24

F044HS1C23

F044HS1C21

F044HS1G01

F044HS1D21

Gland Assembly

G044HS1K24

G044HS1C23

G044HS1C21

G044HS1G01

G044HS1D21

Gland Assembly

H044HS1K24

H044HS1C23

H044HS1C21

H044HS1G01

H044HS1D21
The gland packing's application limit is primarily determined by the extent to which heat developing due to friction can be dissipated. For heavy-duty gland packings, leakage water is actually pre-cooled by means of an internally cooled shaft protecting sleeve and a cooling jacket.
The packing materials generally employed are braided cords made from asbestos-free yarn such as Ramie, Aramid, PTFE, graphite fibres or cotton, which are processed on special machines to form endless square braids.
The packings can be adjusted and are suitable for higher pressures and circumferential speeds than lip seals. Different packing variants are used depending on whether the pump is run in suction head or suction lift operation, or whether it handles clean or contaminated fluid.
In the case of positive pressure, the gland packing is equipped with three to five packing rings. These packing rings are pressed together axially via the gland follower. As a result they expand radially which means the pressure on the shaft protecting sleeve is increased. This has an influence on the clearance gap width and the leakage rate at this location.
The radial gap between the shaft protecting sleeve and the packing rings allows fluid to leak to the outside. This leakage is required to reliably dissipate the heat generated by friction from the gap. When tightening the gland bolts it is important to find a satisfactory compromise between an acceptable leakage rate and sufficient packing cooling.
Contact information:
Email: Sales9@tobeepump.com | Mob: +86-18132079120| Skype: Tobee.Pump | Fax: +86 311-87221317
Web: www.tobeepump.com | Web: www.slurrypumpsupply.com | Web: www.tobee.cc | Web: www.hydroman.cn | Web: www.tobee.store